Centennial Building in the 50's
We'd like to hear from former and current residents about your memories of Chester. We'll use your recollections and photos right here on our Memories page.
You can contribute by writing to the Chester Historical Society, at
PO Box 376, Chester, NJ 07930 or you may email us at chester.historical.society@gmail.com.
We welcome your photos too!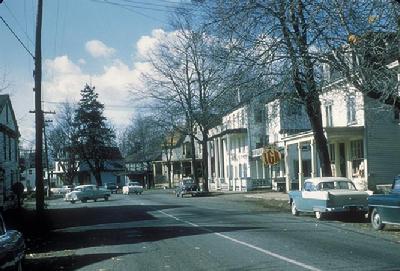 Main Street in the 50's

From Linda Linfoot, now living in Cornelius, North Carolina: My family only lived in Chester for five years, but they were my children's formative years...and we look back on them with such nostalgia. For those thinking of moving on -- don't! The schools there are so wonderful, and the teachers are the best!
The most important parts of Chester, for us, were the people. My husband had lost his job when the company he worked for closed down. We hit hard times, but the people of Chester rallied 'round us and helped us through.
My children had the best Christmas ever, that year... 'Santa' spoiled them rotten. My eldest said he knew who Santa's helpers were that year...the people of Chester. I can only hope that my children will remember the wonderful sense of community and the kindness shown so they may do the same when they are older. We left Chester about 18 months ago (about July 2003), and we still miss it terribly.

From Stan Fleming, of Homosassa, Florida: Stan first contacted us with a paragraph synopsis of his life, as follows: We moved to Chester in 1936. My father was a native of Chester. We lived in what we called 'Mill Town' because of the old grist mill. I rode the bus to the Chester Public School.
My Dad started a road stand and later opened the Old Mill Tavern. Chester was a quiet, small town. Mr. Bragg was one of my favorite teachers. I'm sure a lot of his former students feel the same way. He tried to make a difference in our lives. I often think of the fellow students I went to school with and how their lives turned out. I would like to hear from them. (His email address is sfleming52@tampabay.rr.com) I left Chester in 1950, but I still think of it as the place I am from.
Our president, Joan Case, responded to Stan's email and requested more "Memories" from the former Chester-ite. He answered with the material below.
As I said, my father, Amzi Fleming, had a road stand for a couple of summers. The CCC boys completed building Hacklebarney State Park, so in 1934 he bought an old general store and turned it into The Old Mill Tavern. He also cleared the land behind the grist mill for a park, and put a dance floor in the grist mill and had Friday and Saturday night dances. That only lasted for a couple of summers.
My father died when I was 15 years old. My mother, Edna Fleming, continued to run the Tavern until 1950; she died in 2000 at 98 years old.
The Flemings that ran the Chester House (now the Publick House) were my father's cousins. My grandmother, Densie Fleming (born in 1863) was a young widow with nine children when she took in laundry and cooked for many of the iron ore miners along the Hacklebarney Road. She lived in a farmhouse behind what later became The Old Mill Tavern.
My grandmother used to tell stories about the stage coaches that passed through on Rt. 24. In later years she lived in a house right on the Black River. That house was destroyed when they rerouted the new bridge over the Black River. She had a cousin who lived where the Turkey Farm is located. I don't remember if they were the people who actually started that business or not.
I remember the town of Chester as a small town with Mr. Sutton's grocery store, another small one across the street, a barber shop, a small hardware store, a general store next to a soda store with Mrs. Bragg at the switchboard in the back room, and Shaffer's Soda Fountain across the street from the hotel. Shaffer's always had a good selection of 10-cent comic books. I lived too far from town to enjoy it very much, so I learned to fish, hunt, ice skate in the winter, and swim in the Black River in the summer.
Mr. Bragg, our 8th grade teacher, used to organize baseball games, etc., after school. He was a good man. Mr. Williamson was our principal and teacher. In the winter we would ice skate during lunch hour on a shallow pond in the back of the grammar school.
I only went one year to Roxbury High School, so I didn't get to know too many people there. I went to a prep school in Virginia, so most of my friends were from grammar school. The name Wyckoff is familiar, but I don't recall Beatrice. There was a John and I think, a Lulu Wyckoff. The classmates I can recall were my good friend Bruce Russell, Bill Steinberg (his Dad was mayor), Joe O'Dell, George Pickel, Carolyn Fleming, Jane Grady (her brother was Clark), Fern Conkling, and Jean Serventi. I suppose, like me, they don't live in Chester today. Jane Grady used to have New Year's parties for that group, and what fun they were.
There isn't much more I can tell you. After serving in the Army, I went to Seton Hall and when my stepfather died I helped my mother with the business for awhile and sold it in 1950. I went out on my own and my mother moved to Florida.
I can tell you that I worked in almost every state from New Hampshire to Florida, and Chicago. I have traveled to almost every state in the union, and Chester and its surrounding country is as good as it gets. The springtime with the dogwood, and the fall with the leaves of the maples turning, is outstanding in Chester. Happy New Year!
From June Panella Lubin, who will be soon moving to Arizona:
Although I was born and raised in Chester's neighboring town of Mendham, I have lived in Chester since 1978. As a child, one of my fondest memories was our family of six piling into our little green VW Beetle and coming to the Chester Dairy Queen on muggy, summer evenings to buy our Dilly Bars.
Every other Friday night was "grocery shopping" at the A&P (where the RiteAid store is now)...and playing girls basketball at Williamson School against girls who would later become my classmates in high school. Funny, the things that stay in our memories...there was
Jeffey's Charcoal Pit on Route 24 for a burger and fries...and a place to buy tropical fish from a resident on Rt. 24...when I entered High School, the daily ride from Mendham to what was then called West Morris Regional High School gave me only a rider's view of the town. Before long, many of my friends were Chesterites. Grogan's Pond (off 206 S.) was a popular spot in the summertime...and the Carnival on the grounds of what I believe is the Chester Borough Municipal Building...Catholic residents of Chester attended St. Joseph's Church
in Mendham, and there I met more Chester friends.
We purchased our second home in Chester Borough, and two of the girls I went to High School with became my neighbors, and our children became friends. Twelve years ago we purchased another home...this time in Chester Township. The property we live on was once an old meadow dotted with wild fruit trees where my cousin used to hunt before the land was developed.
Yesterday I remembered a little gas station on Rt. 24, somewhere in the vicinity of St. Lawrence Church, that sold soda and cigarettes. I could remember, as a new driver, stopping there for gas but couldn't for the life of me remember the name. I opened this past week's Observer Tribune and checked out the obituaries (which I do to keep my parents informed of anyone they knew from Mendham). I happened across the name that had eluded me..."Walter Serbe, age 90, Gas Station Owner."
What are the chances of that? I had been searching my memory for that name because I can remember saying..."Meet me at Serbe's."
I feel very fortunate to have remained in this area for the most important time in my life, and in the near future will say goodbye to my New Jersey home and begin new roots in Arizona. The only thing I won't miss is plowing the driveway.
From Christa Martell Lehosky, now of Matthews, NC:
When I was 7 years old, we moved to Chester. The year was 1965. My parents had their first home built by a Mr. Raskin. We lived on Delwood Rd. I only have fond memories of that town. I remember going to the A and P grocery store with my mom and to the bakery on Sat. mornings with my Dad. During the summer I learned to swim at Grogan's Pond. Then in the evenings my parents took us to Dairy Queen. I went to Dickerson School, then to Bragg School where I fondly remember my 3rd grade teacher, Mrs. Heuer. I remember Williamson School, and our school trip to Washington D.C. I would have attended West Morris High School as my sister Liane did but my Dad's Co. transferred him to Southern Ca. I remember the changing seasons, the smells of Spring and walking to the bus stop which was at the top of Delwood Rd. and waiting for that school bus on snowy mornings. I always thought that we lived in the middle of no where, until I returned 2 years ago during a business trip in the Short Hills area. With my rented car I returned to my former neighborhood. When I saw my old beautiful home with the stone wall that my Dad put together piece by piece, that ran up the driveway, and our Christmas tree that we planted in the front yard overtaking the home, all feelings sweet and sad rushed back. It was a good life then...it's a great life now.


From Helen Budd Vanderbilt (now of Heath Village, Hackettstown, NJ):
Our father, William Monroe Budd, and his sister Dora Philipa Budd were both born in Chester, he in 1883 and she in 1885. We recall many stories told to us about their early days in Chester. (Why didn't we listen more carefully?)

Their short route to school was through many fields. One day, they, and a friend of my father (probably a Dickerson boy) were part way across a field, when they noticed a bull coming towards them. The boys, who were older than Dora, ran towards the fence - and Dora? she knelt down to say "Now I lay me down to sleep" - and the bull passed over her! That was the last time they used that route.

My grandmother had put a basin containing a bleach solution on a chair temporarily. Dora entered the room very angry and accidentally sat on the chair with the basin. Oh! Oh! The back of her dress was ruined!! I understand when her father came home and heard the tale, he said the dress must hang in her closet for her to see - as a reminder to control her anger. She claims it helped!
Their father, Daniel Monroe Budd (1861-1897) was an engineer who was working on laying the railroads in town - and was away from home a great deal. His wife, Harriet H. Kinney (1861-1939), and children enjoyed visiting them any time they could. Dan had several rooms where he boarded. While the laboring men slept in sleeping bags around the fire, my father Monroe enjoyed slipping down at night to visit the men around the fire.
Another story about those visits was that there was no dining room in these rented rooms. My grandmother hung a blanket across the kitchen in order to have their own "dining room."
Dan at the age of 30 died of pneumonia while away from home. His children ranged in age from 18 months to 10 years.
Dora (1885) returned to Chester in 1903 to teach until 1909 in the Mill Town School (now the Township Hall), which, according to Fanny Greenidge, "had one room, one teacher and 15 children in 6 grades." She at that time boarded with Mabel Drake and her family. She had many stories, too - was she 18 years old!


From John D. Hyde (now of La Grange Park, IL):
I have recently written memories of Chester that span 1953-1958 and submitted them to the Chester Public Library [on shelves - call # NJ074.974 HYD], the Historical Society and the Board of Education. The story covers Williamson School (my mother was Williamson's first secretary, the school buses we rode, the kids in the classes, the teachers and main school staff, Leck's Confectionery, the 7th and 8th grade dance classes and also some memories of the Presbyterian Church. Looking at the photo of 1950's Chester reminds me of when the IGA opened - we could finally buy groceries in town without having to go into Dover. It would still be a while before the first bank opened in town.

From Pam Carman:
I am a 23 year resident of Chester Twp. I was born and raised in Chester. I went to Dickerson when it was still K-3 and we had only two or three classes per grade. Black River Middle School (BRMS) started their sports program my 7th grade year. Ms. Whiting was my kindergarten teacher in 1980.
I have many fond memories of Chester before it grew to what it is today. The library was in the Boro Municipal building when I first started going there. The PAA athletic program didn't start playing other towns until I was in third grade (soccer) and in 7th grade (softball). We still played just Chester in basketball in PAA.
Many things have appeared since I have been living in Chester: the Crossroads and IMCC, Chester Woods, and the many new developments, as well as the many new stores and other employment places. Chester is a wonderful town to have grown up in. When I went to college in NC, my freshman advisor said she and her husband came to Chester to shop yearly. And everyone comments on how beautiful the town is when they see it in person or in pictures.
The Chester of 1953 had ... a new firehouse, a town dentist, a doctor and its own independent telephone system. It was known by others because of the French Restaurant next to the firehouse and the Larison's Turkey Farm restaurant over on Rte. 206. Dairy farms started on the outskirts and ended right in town - just blocks away from the business district. Local businessmen were named Sturzenegger, Apgar, Mosedale, Serbe and Leck, among others. A local curiosity were the fields of telephone poles half buried in the ground. They lined up like soldiers, row upon row behind a chain-link fence as though Ma Bell was afraid someone would steal them.
The population had grown to about 2,000 by the time we arrived - but these figures also counted the "Township" and the Borough., The long since abandoned iron mines had left a huge web of empty underground shafts throughout the area. Local code demanded that any new large building be preceded with test drillings into the ground to make sure it would not cave in at some later time.
Chester had three churches - St. Lawrence Roman Catholic Church moved into a building that had been vacated by the Masons, The Presbyterian Church on Main Street consisted of three buildings - a Victorian house for the Minister, the Parish House and the Sanctuary. The Congregational Church was only a little more recent but it was dated by the warming house in its front and the stables for the horses and wagons of its parishioners in the rear.
There was an old cemetery alongside this church and many of the old tombstones found their way elsewhere each Halloween as pranksters loaded them into the trunks of their cars or pick-ups.
The barber shop was a classic - "Joe" gave one kind of haircut - it was good enough for everyone. He had the best collection of Police Gazettes for his loyal patrons.
The town dentist was Dr. Fry. His home and office was right next to the school. He was a hefty man with gray hair and a significant stomach that protruded under his grass and blood stained "whites."
"Yi" Truax was the town doctor and his wife, Virginia, was the school nurse. Dr. Truax' practice was limited to mostly non-serious things because his WWII experience in the Canadian Army had left him in chronically ill health. It seemed like no matter what our illness was, we would be given a foul-tasting sulfur lozenge to "dissolve under our tongue."
Chester Township Elementary School remained a country school long after it really had to. I was fortunate to have been a student there for what I believe were its final years in this motif. The yellow brick two story school on Main Street had replaced the wood-frame building down the side street from Leck's back in the late 1920's. ...Near the front entrance was the Principal's office. This small room was the entire administrative center for the school district. Just outside in the foyer was the pay phone...Calls on the phone were a nickel...there was no dial - you picked up the receiver and told the operator what number you wanted - for example, if I had to call home I would ask for "Chester 6-R3." The operator would ring three short rings and maybe eight homes would hear this ring - but only our home was ethically compelled to answer it.
My mother, Ruth Hyde, became the first secretary ever hired by the school. She began her career working for Charles Williamson, then worked for Emil Massa, Nick Marin, Bob Collins and Don Mills.
Mr. Hyde has written much about The Chester School - you can see his work at the Chester Library.
arman: I am a 23 year resident of Chester Twp. I was born and raised in Chester. I went to Dickerson when it was still K-3 and we had only two or three classes per grade. Black River Middle School (BRMS) started their sports program my 7th grade year. Ms. Whiting was my kindergarten teacher in 1980.
I have many fond memories of Chester before it grew to what it is today. The library was in the Boro Municipal building when I first started going there. The PAA athletic program didn't start playing other towns until I was in third grade (soccer) and in 7th grade (softball). We still played just Chester in basketball in PAA.
Many things have appeared since I have been living in Chester: the Crossroads and IMCC, Chester Woods, and the many new developments, as well as the many new stores and other employment places. Chester is a wonderful town to have grown up in. When I went to college in NC, my freshman advisor said she and her husband came to Chester to shop yearly. And everyone comments on how beautiful the town is when they see it in person or in pictures.


From Lisa Haas Purinton (now of South Burlington, VT):
I grew up in Chester from 1968-1986 when I graduated from Mendham High School and then moved to my current home in Vermont. I can't believe how Chester has changed in only 13 years. I don't even recognize our old house anymore and Chester has grown with its new developments and businesses. I too remember Dickerson School, and I also had Mrs. Whiting. I began kindergarten there in 1973. I still think of her so fondly, especially on a particular day about a year ago when I took my own son to his first day of school. What I remember about Chester is penny candy at the "mini-mall" near the Chester bakery, buying trading cards at "Shelbys," cheerleading practice at the field for the never-ever winning Chester Lions, Girl Scouts, Hacklebarney Park, The Flea Market, BRMS, going with my dad to vote at the American Legion, "Jeffy's" snack bar, Chester Carnivals, the grand-openings of the Post Office and Bank (they gave out free rulers and we were so excited!), the "new" movie theater! and arcade, Taylor's ice cream with my Grandma every Friday night, my first job at Shoe Town, and many other firsts....and lasts. Chester is not today how I left it 13 years ago, but it still exists, so vividly in my mind....and I return there often when I get homesick, to the very place I called home as a little girl.
From Laura Mager Null (now of Manassas, VA):Our family moved to Chester in 1958. We moved to Cora Lane, in a new subdivision, Dogwood Acres. (My dad called it Dogpatch.) It was off South Road, if I remember correctly, and just over the line from Ironia. The town had its own phone company - not part of the Bell System. At the time, they did not have direct dial - you had to pick up the phone and speak to an operator. Phone service was dependent on the moods and whims of the ladies running the switchboard. Our phone number was Chester 499.
I started in Miss Heinz's third grade class in what was then Chester Public School (later Williamson). It was K-8 then, and remained so - I graduated from there to high school at West Morris. The cafeteria was still a fairly new addition, and the gymnasium addition was only in the planning stage, I guess. I can remember it being built. I was fascinated with the older part of the school, and was pleased when my classmates and I became "big kids" and were in the upstairs classrooms for the 6th, 7th and 8th grades. My favorite part of the school, though, was the library. It was below ground level, and had a mysterious, basement-y air. It was loaded with wonderful books. I chased the New Illustrated Classics all around the room for the sake of the N.C. Wyeth illustrations. They had a Howard Pyle's Book of Pirates there that is a collectors edition now - I wonder what happened to all those books.
The school had a massive playground, mostly just one big open field. Kids sort of created their own play areas. One thing I hated was how they herded us outside in the bitterest weather. Used to freeze solid! There were some nasty winters during the 1960s. The lower grades also had some horrible old lady teachers, complete with buns on the backs of their heads, relics of the days when a teacher only had to have a teaching certificate. They were the terrors of the lunchroom. Their ideas of discipline would cause consternation now. But I remember Mr. Morris fondly, and of course Mr. Bragg - he retired the year we graduated.
The town was sleepy and worn looking. I liked it better that way, to tell you the truth. The post office was in the middle of town, across from the Chester House. I remember the town library was in the back of that building, before they moved it into what had been the Catholic church. I guess that became the municipal building. I remember driving my first car, a 1963 Corvair Convertible, through town, and almost running it into the big tree out in front of the post office, because the siren went off on the firehouse across the street and scared the heck out of me.
Boy, we thought Chester was big-time when the shopping center opened with the A&P. My mom was delighted - she didn't have to drive to Morristown to grocery shop anymore. Anyone remember Stanley and Clyde's boutique? Historical descriptions of Chester never mention the "telephone pole farm,",but it was a local landmark, and people gave directions with reference to it. I live in a similar history-laden, small-but-growing town now -- Manassas, Virginia. It reminds me a lot of Chester. I still call Chester "home," even though I've only been back there once since 1972.